| | |
| --- | --- |
| | Bean Hollow |
---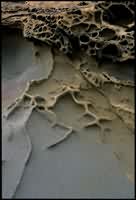 Bean Hollow is a beach 17.5 miles south of Half Moon Bay along highway 1 (For international readers, U.S.A, California, San Francisco Bay Area.) It is just along the side of the road and easily accessible. I discovered Bean Hollow because I was looking for a place to photograph tafoni formations. I had seen photographs of tafoni formations from a couple of photographers, but did not realize what the formations were or where to find them. Eventually, I discovered the tafoni photographs that Bill Atkinson had taken. After a quick web search I discovered that Bean Hollow, where the Bill's tafoni photographs were taken, was not far from where I live in the east bay.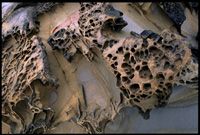 Ideally I wanted to photograph the tafoni formations just after a rainstorm with solid overcast. These conditions would give me a combination of flat lighting, so the intricate detail of the tafoni would not be lost in shadow, and extra saturation from wet rocks. When one weekend rolled around and there was rain in the forcast, I figured it was time. As I arrived at Bean Hollow the conditions were rain and wind, not exactly perfect, but close enough.
After arriving at Bean Hollow I discovered that I only had one roll of my favorite film, Velvia, left. With only one roll of film, I would have to avoid bracketing and dupes. However, I was not too bothered since I really considered this a scouting trip. Bean Hollow was close enough to where I lived that I planned to come back if it turned out to be a desirable photographic location.
The first thing I did was walk around Bean Hollow without my camera to get a sense of what was there and where I might want to start. If I am not planning a long hike, I prefer walking around without the camera at first. Without the camera, tripod, camera bag, I have additional freedom to explore different views and locations.
I am not sure what I expected to find, but walking out amongst the strange formations, I was entranced. It would be difficult for me to describe the beauty of the rock formations, so luckily I have all these pictures. If I had to describe it, it was like walking through some beautiful alien sculpture garden. For a while I just wandered around in awe of natures beauty, feeling lucky to have the opportunity to view such unique beauty.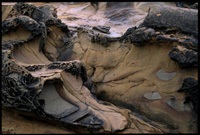 I am not sure exactly how tafoni formations come about, but a quick search found the following definition: a formation of sandstone made when CO2 and rain water forms a weak acid which gradually disolves the calcium carbonate "cement" that holds the grains of sand together.
After a while I went back to get my camera, tripod and umbrella. The shooting conditions were a little difficult. The wind was blowing around 10-15 mph and it was raining. All I had for a tripod is a small and light bogen 3001. By using the tripod with the legs only slightly extended, with a large umbrella blocking much of the rain and wind, and by using the selftimer for shutter release, the photographs turned out sharp enough. I used a combination of 28mm and 50mm primes for most of the photographs.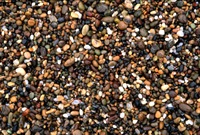 Besides the tafoni formations there is an adjacent beach, called Pebble Beach, that is made up of small pebbles that have been polished over the years. The rain gave these pebbles the saturated colors and jewel like sparkle that always enticed me to take pebbles from the beach when I was a child. Iceplant growing on the cliffs also caught my eye and I took a few photographs of it. I left a little frustrated that I could not combine the tafoni, beach and iceplant into an effective photograph. Being limited to only pointing the camera away from the wind and rain did not help, and it just gives me another reason to go back.
---
Add and View Comments